WHAT WE DO
The CP600-eCo, CP600 and CP400 HMI control panels offer a wide range of features and functionalities for maximum operability. ABB Control Panels are distinguished by their robustness and easy usability, providing all the relevant information from production plants and machines at a single touch.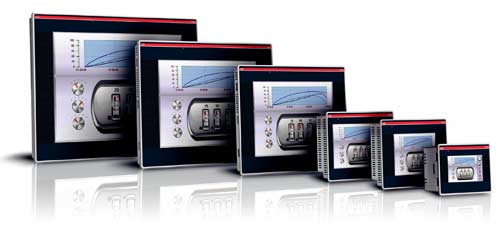 Human Machine Interfaces - human control and operation of machines and processes.
Individual solutions for each application - this enables an operator at any time to have an overview on a profitable production and intervene manually if necessary.
A wide range of communication protocols make these control panels the ideal complement to ABB PLCs, Drives and Robots.
The control panels series CP600-eCo provides touch screens from 4.3" to 10.1" in 16:9 wide screen.
The control panel series CP600 provides color touch screens from 4.3" to 15". A complete engineering software solution offers a great variety of HMI capabilities. A set of CP600 devices displays the visualization of the ABB PLC´s web server.
The CP400 series comprises 3.5" and 5.7" monochrome control panels which are in classic phase of life cycle.